Click to Call in Online environments
Click to Call on Websites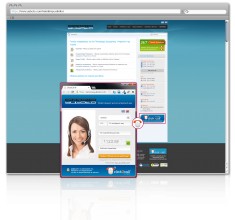 Click to Call as an innovative website call back solution, can optimize the experience of a user when online, as a different Click to Call button can be configured to correspond to a different department! In that way the customer will get through directly to the department he needs and each department will get targeted customer requests. For example, one lick to Call button or icon can serve the sales department and one other the after-sales department. One Click2Call button or icon can serve the home users and another the business ones.
Click to Call on Newsletters, Email messages, eBooks and eCatalogues
Click to Call can become a sales tool when used in newsletters or email signatures or other digital material. Instead of just sending out a newsletter with a number of possible contact details for the customers to use to reach you, with Click to Call you create a bridge between the online and the offline environment and you facilitate the completion of the purchase!
Click to Call on Social Media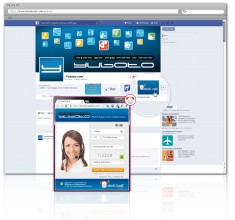 Your friends, followers, fans in your social media pages are selected, pure, targeted leads but they are missing the stone to step on and get in touch with you! Click to Call by nature works as a bridge with the call center or the customer service department. So next time you are going to post something on Facebook, Twitter, LinkedIn or any other social network, think what you have done for your audience and publics to get in touch with you easily and free of charge.
Click to Call on Mobile Applications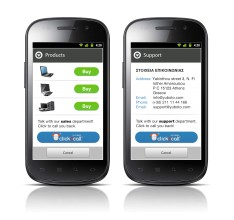 Click to Call is the ideal communication tool for Mobile Apps, since users are already holding their phone in hand. Instead of asking them to call you, the users have a tool to receive your call in no time and with no cost. No matter how full featured your App is or how much information is offered, Click to Call will push it to the next level, by adding live communication.
How users experience click to call in online environments
The procedure starts as soon as the online visitor clicks on the Click to Call icon.
A window pops up asking the client to enter his/her phone number and click on «Request to get a callback».
In return, 2 phone calls are being made by Yuboto: 1 to you and 1 to the customer. Once both legs are answered based on the priorities set by the client, the calls are then getting connected with each other.
See Also: Printed promotional material, user manuals, or even on product packaging via a QR Code